Saturdays, 10:00 AM
Morrissey Park Pickleball/Tennis Courts
​
Ever wanted to learn to play Pickleball? Maybe you know the rules but are looking for a few people to play with. Join the library at the Morrissey Park Pickleball/Tennis courts and play some Pickleball with us.
​
The library will have a limited number of pickleball paddles available for use.
Thursday, 5:00 PM
In-person & Livestream YouTube ​
​
Starting October 12, 2023
​
Mindfulness Group of Kiel/Chilton Area is again offering meditation classes at the Chilton Public Library this fall, starting October 12. Classes are presented weekly for six weeks at no cost.
​
This program is offered both in-person and virtually on the library's YouTube channel.
​
Link to registration form: https://bit.ly/3PloX7Y
​
We will follow our traditional six week curriculum, following the outline in the book REAL HAPPINESS by Sharon Salzberg, plus optional weeks seven, focusing on Physical Pain (issues like chronic back pain, headache, arthritis, and other medical issues) and eight, focusing on Emotional Pain (anxiety, depression, grief, anger), October 28-December 7.
Strong Bodies​
Tuesdays, 1:00 PM
Thursdays, 11:30 AM
Starting Thursday, September 7, 2023
​
StrongBodies will catalyze positive change in people of all ages to live stronger, healthier lives by providing knowledge, inspiration, access to programs, and ongoing support. (UW Extension)
Increases:
strength

muscle mass

bone density

physical ability
​
Registration required. Call or email Nancy Krueger at 920-740-9572 or nkrueger@vpind.com
Additional Health Resources
MedlinePlus is a service of the National Library of Medicine (NLM), the world's largest medical library, which is part of the National Institutes of Health (NIH).
​
Their mission is to present high-quality, relevant health and wellness information that is trusted, easy to understand, and free of advertising, in both English and Spanish. Anywhere, anytime, on any device—for free.
The National Center for Complementary and Integrative Health (NCCIH) part of the National Institutes of Health, is the Federal Government's lead agency for scientific research on the diverse medical and health care systems, practices, and products that are not generally considered part of conventional medicine. NCCIH was formerly known as the National Center for Complementary and Alternative Medicine.
The Academy of Nutrition and Dietetics, the world's largest organization of food and nutrition professionals, is dedicated to helping the government conserve food and improve the public's health and nutrition. They are committed to improving the nation's health and advancing the profession of dietetics through research, education and advocacy.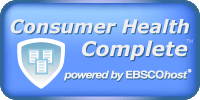 Consumer Health Complete offers consumer-oriented health content, from mainstream to holistic medicine through more than 560 magazines and journals and 230 full-text health reference books and encyclopedias. (offered through Badgerlink)
Alt Health Watch search engine allows the reader to search through full-text articles for more than 190 international, and often peer-reviewed journals that cover subjects include acupuncture, aromatherapy, childbirth, Chinese medicine, chiropractic, creative therapies, cross-cultural therapies, energy medicine, herbalism, homeopathy, mind-body medicine, naturopathy, nutrition, osteopathy, and more​. (offered through Badgerlink)