Mind Over Matter
Healthy Bowel, Healthy Bladder
​
Mondays
September 19, October 3, October 17
12:30-2:30
​
More than half of women aged 50 or older experience urine or bowel leakage sometimes. The Mind Over Matter: Healthy Bowels, Healthy Bladder workshop is designed to give women the tools they need to take control of their symptoms. Scientific studies show that attending this workshop reduces or even cures symptoms for many women. Even if you don't have leakage symptoms now, it's never too early or too late to think about your bladder and bowel health.
​
This is a 3-session workshop for women that includes information, group activities, and simple exercises to do at home.
​
MUST ATTEND ALL THREE SESSIONS - LIMITED SPACE
Registration Required: 920-740-9572 (Nancy Krueger)
​
​
Additional Health Resources
MedlinePlus is a service of the National Library of Medicine (NLM), the world's largest medical library, which is part of the National Institutes of Health (NIH).
​
Their mission is to present high-quality, relevant health and wellness information that is trusted, easy to understand, and free of advertising, in both English and Spanish. Anywhere, anytime, on any device—for free.
The National Center for Complementary and Integrative Health (NCCIH) part of the National Institutes of Health, is the Federal Government's lead agency for scientific research on the diverse medical and health care systems, practices, and products that are not generally considered part of conventional medicine. NCCIH was formerly known as the National Center for Complementary and Alternative Medicine.
The Academy of Nutrition and Dietetics, the world's largest organization of food and nutrition professionals, is dedicated to helping the government conserve food and improve the public's health and nutrition. They are committed to improving the nation's health and advancing the profession of dietetics through research, education and advocacy.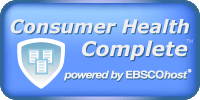 Consumer Health Complete offers consumer-oriented health content, from mainstream to holistic medicine through more than 560 magazines and journals and 230 full-text health reference books and encyclopedias. (offered through Badgerlink)
Alt Health Watch search engine allows the reader to search through full-text articles for more than 190 international, and often peer-reviewed journals that cover subjects include acupuncture, aromatherapy, childbirth, Chinese medicine, chiropractic, creative therapies, cross-cultural therapies, energy medicine, herbalism, homeopathy, mind-body medicine, naturopathy, nutrition, osteopathy, and more​. (offered through Badgerlink)