Mindful Movement
Mondays at 8:00 AM
Facebook Live
​
Join Glenny on Facebook Live every Monday morning to breathe our bodies in yoga movement explorations.
Mindfulness Meditation Class
Wednesdays at 3:00 PM (starting September 29, 2020)
​
In partnership with Dr Michael Hetzner, Dr. Victor Schueller, and Ascension Calumet Hospital and Auxiliary, the library will be virtually hosting Mindfulness Meditation classes. In person classes are also available at Animity Health and Wellness Chriopractic Center on Tuesdays and Wednesdays

Classes will be 1½ hours weekly for six weeks. This course is free of charge, but each registrant is asked to make these 3 commitments:
1. Attend every class for the six weeks.
2. Obtain the introductory meditation book REAL HAPPINESS by Sharon Salzberg and read the weekly assignments. (The library will have several copies available for checkout)
3. Practice the meditation daily (or almost daily) at home for at least 10 minutes.

Virtual participants are asked to still register and uphold the above commitments. In addition, virtual participants will have personal counseling available either via email or phone.
​
​
Additional Health Resources
MedlinePlus is a service of the National Library of Medicine (NLM), the world's largest medical library, which is part of the National Institutes of Health (NIH).
​
Their mission is to present high-quality, relevant health and wellness information that is trusted, easy to understand, and free of advertising, in both English and Spanish. Anywhere, anytime, on any device—for free.
The National Center for Complementary and Integrative Health (NCCIH) part of the National Institutes of Health, is the Federal Government's lead agency for scientific research on the diverse medical and health care systems, practices, and products that are not generally considered part of conventional medicine. NCCIH was formerly known as the National Center for Complementary and Alternative Medicine.
The Academy of Nutrition and Dietetics, the world's largest organization of food and nutrition professionals, is dedicated to helping the government conserve food and improve the public's health and nutrition. They are committed to improving the nation's health and advancing the profession of dietetics through research, education and advocacy.
Alt Health Watch allows the reader to search through full-text articles for more than 190 international, and often peer-reviewed journals that cover subjects include acupuncture, aromatherapy, childbirth, Chinese medicine, chiropractic, creative therapies, cross-cultural therapies, energy medicine, herbalism, homeopathy, mind-body medicine, naturopathy, nutrition, osteopathy, and more​. (offered through Badgerlink)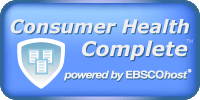 Consumer Health Complete offers consumer-oriented health content, from mainstream to holistic medicine through more than 560 magazines and journals and 230 full-text health reference books and encyclopedias. (offered through Badgerlink)